General Elisha Boyd (born October 6, 1769, son of the frontiersman John Boyd) purchased the land for Boydville for $290 from General Adam Stephen, whose monument is located on one of the original lots of the estate. At first General Stephen refused to sell the property and General Boyd had broken ground for a home on a farm he owned called "Boydbrook" on what is now Tuscarora Pike. When Stephen relented, Boyd started to build Boydville. The building was completed in the fall of 1812 when the family moved into it.
At the death of General Boyd in 1841, his daughter, Mary, became the next owner of Boydville, for her father willed the house and the surrounding 300 acres including three town lots to her. Mary had married Charles James Faulkner I when she was sixteen and they first lived in the old Nadenbousch house. Charles Faulkner later purchased the property from his wife, and Boydville remained in the Faulkner family until it was sold in 1958. (In a history written by my grandmother, Jane Faulkner White, it states that her grandfather purchased "Boydville" from her grandmother for the sum of $100,000.)
The house is constructed of two foot thick stone covered with plaster. The center section of the two-story mansion consists of nine rooms and the center hall. Facing the house, the right wing consists of two rooms and a trunk room, accessible to the main house by stairs. The left wing houses the kitchen, butler's pantry and a servant's room over the kitchen. Above the kitchen door are three original bells (each of different size and sound) which were used to call the servants. A later version of a call system is in the Butler's pantry which was installed when the house was electrified around 1890. The sunroom at the end of the hall (originally a back porch) was added about 1914. The original front portico was Georgian, which was replaced by the present long front porch about 1900.
As you enter the front hall, three fan glassed doorways, with beautiful hand carved woodwork, open into large, spacious, high ceilinged rooms displaying exquisite hand carved mantels. Each doorway and mantel is carved with a different motif. The original wallpaper put there when the house was built, was laid in sections giving the appearance of wood paneling and covers both the downstairs and upstairs halls. The hand-wrought brass knobs and locks were brought from England. There are two original "carpenter locks" in the dining room. There are parquet wood floors in the front hall, drawing room, living room and dining room. Each room had a fireplace, some of which were closed when central heating was installed.
The brass chandeliers in the drawing room and parlor were brought from France by Charles James Faulkner when he was minister to France under the administration of President Buchannon, 1860-1861.
Brick and stone walls enclose the service yard and what was once a beautiful, formal garden. There is still a "root cellar" in the garden. The service yard contains the Smoke House, Washhouse and summer kitchen with a cooking fireplace, two windows and door. Built of stone with plaster walls, it was also used for washing clothes. A well-lined limestone Ice Pit is visible from the current Gazebo.
At the death of Charles James Faulkner III, the house passed from family ownership in 1958 to Roderick and May Cheeseman, who enjoyed the property for 29 years before selling it in 1987.
During the Civil War, Boydville narrowly missed being destroyed when Capt. F. 0. Martindale, under orders from General Hunter, arrived with his troops to burn the house to the ground, in retaliation for the Confederate burning of Governor Bradford's house. Mary Boyd Faulkner was given one hour to leave, taking away only wearing apparel for herself and daughters. The only other family member at home was one daughter, Mrs. Pierce. Mrs. Faulkner managed to send a message of appeal to President Lincoln and the house was spared. President Lincoln replied:
"The property of Charles James Faulkner is exempt from the order of General David Hunter for the burning of residences of three prominent citizens of the Shenandoah Valley in retaliation for the burning of Governor Bradford's house in Maryland by the Confederate forces."
Dated: July 18, 1864 Signed: Abraham Lincoln

The Faulkners as well as many families in Berkeley County, suffered much during the war. There was significant damage to the property and farm but Mary Faulkner was unsuccessful in obtaining any reimbursement from the U.S. government.
There were many distinguished visitors to Boydville before and after the Civil War. Henry Clay, on his second visit to Berkeley County in 1848, was entertained at Boydville by the Honorable Charles J. Faulkner Sr. He speaks of Clay in his historical sketch in Aler's History as being the noblest type of American manhood, the most prominent orator, patriot and statesman of his day. Henry Clay also held in his arms the young infant son of the Faulkners, Charles James Jr., born in September 1847 at Boydville.
My grandmother, Jane Faulkner, writes of a happy, carefree life at Boydville, in a house often filled with ten to fifteen guest at one time. After she was married, she returned from Tennessee every summer with her family. My mother was born at Boydville. While her father, Senator Faulkner, was in the Senate, he spent only weekends at Boyciville, when he often brought distinguished guests with him from Washington. Among those were William Jennings Bryan, orator, and Woodrow Wilson's Secretary of State. Other distinguished guests were Adlai Stevenson I, Franklin D. Roosevelt, Assistant Secretary of Navy (1913) and Mrs. Woodrow Wilson,
The Family
General Elisha Boyd, born 1769, youngest son of Sarah and John Boyd, spent his young years on the frontier of Berkeley County and attended whatever country schools were available. He studied law in the office of Col. Phillip Pendleton. He served in the House of Delegates and commanded the 4th Regiment of Virginia militia during the War of 1812. His second wife was Ann Holmes and their daughter, Mary, married Charles James Faulkner.
James Faulkner, born in 1776 of Scotch-Irish descent in County Armagh, Ireland, was brought to this country by Richard McSherry at the age of ten. The young lad, an orphan, was apprenticed to an Irish merchant in Martinsburg. At the age of 27, he married Sarah Mackey, only daughter of Captain William Mackey, hero at the battle of Brandywine during the Revolutionary War. Just prior to the War of 1812, Faulkner organized a volunteer infantry company in Martinsburg and was promoted to rank of Major. He had supreme command of the artillery at the battle of Craney Island, Major Faulkner was given credit for that gallant victory. He died in 1817 and was buried with military honors in Norborne Cemetery. He left a son, Charles James Faulkner, who at the age of ten, was also left without father or mother.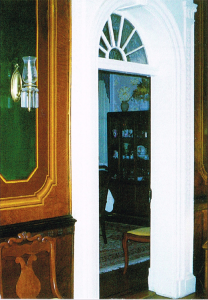 At the death of his father, Charles James Faulkner was placed under the care of Dr. Richard McSherry and was sent to Georgetown College. He was admitted to the bar in 1829. He served in the House of Delegates from 1831-1834. In 1832, he became well known for his position on the slavery debate, urging that "all children of slave parents were to be born free after 1840." He lost by one vote. He married Mary W. Boyd, daughter
of General Elisha Boyd in 1833. In December 1859, he was appointed Minister to France by President James Buchannon and served in this post in the court of Napoleon III from 1860-1861. He returned a few months after the start of the Civil War, paid his respects to President Lincoln and Secretary Seward, settled his accounts and prepared to return home. He was immediately arrested and thrown into prison to be held as a hostage for James McGraw, of Pennsylvania who had been imprisoned by the Confederates. He was offered release only if he took an oath of allegiance. His answer to Seward was "To take an oath which you prescribe would furnish no evidence of my loyalty. It might be proof of my subserviency and cowardice—Loyalty springs from the heart; it cannot be manufactured by thumbscrew, political test, or prisons." After six months of uncomfortable confinement, he was welcomed back to Martinsburg. A short time later he accepted a post on the staff of Stonewall Jackson and was assigned the task of writing his military reports. In 1874, he served another term in Congress, from West Virginia. He died at Boydville in 1884 at the age of 78.
Charles James Faulkner Jr., the eighth and last child of Charles and Mary, was born September 1847 at, Boydville. He was with the family in Paris and attended schools there and in Switzerland. He returned with his father at the time of his arrest. He entered the Virginia Military Institute in Lexington. At age 15 he fought with the cadets at the Battle of New Market. Later he served as aide to General John Breckenridge and then to General Henry Wise. He graduated from the University of Virginia and was admitted to the bar at the age of 21, He was elected to the United States Senate in 1887 serving two terms. After leaving public office, he practiced law in Martinsburg. He married Sallie Winn of Charlottlesville in 1871, with whom he had five children.
After her death, he married Virginia Whiting and they had one son. Charles died January 1929 at Boydville in the same room where he was born. He had inherited Boydville from his father and he willed it to his son and namesake Charles James Faulkner III.
Charles James Faulkner III was born August, 1887. He graduated from Washington and Lee and was an attorney at law as were his father and grandfather and great-grandfather. He became the next and last owner of Boydville in 1929 at the death of his father. Jim, as he was called, was the general counsel for Armour and Co. in Chicago. He returned to Boydville as often as possible and eventually retired there. His sister, Sallie Faulkner Snodgress, lived in the house until he retired. He died there on September 3, 1953. His widow, Elizabeth, lived there until her death in March, 1956.
©2002 Jane Faulkner Wiltshire Snyder, used with permission